Description:
My name is Chanaka and I will be your TripBuddy for this beautiful Tour. Software Engineer by profession but passionate traveler in spare time.
I enjoy traveling and showing my country to others. I will arrange your Door to Door pick up and drop off during our tour. I can pick up from Colombo and suburbs at your convenience. You may reach me directly for any questions. 
Sigiriya: The Sky Fortress and 8th World Wonder!
Rising 600ft up from the modest plains in Dambulla lies the majestic Sigiriya : The Lion Rock which carries the guarded secrets of an ancient civilization. This UNESCO listed world heritage is an epitome of ancient city building with advanced architectural and irrigation technologies which mesmerize the engineers even today.
History and the Structure
Sigiriya was transformed from a monastery to a gigantic citadel by King Kashyapa in the 5th century in fear of an invasion by his brother Moggallana who was the legitimate heir to the throne. This three layered sublime fortress and palace is sure to get you traverse through the history towards a vivacious reign with magical green gardens, defensive structures, breathtaking art and sophisticated hydraulic systems of which some are working even to this date.
The three layered citadel consists of the ruins of an an upper palace on the flat surface on top of the rock, a mid-level terrace that includes the Lion Gate and the mirror wall with its frescoes, the lower palaces located behind the lavish lower gardens, and the impregnable stone parapet.
Finding the Lion
The capacity of your imagination will be tested in visualizing the enormous lion figure towering against Sigiriya by the paws which are remaining. The brick and wooden staircase between the paws is the portal into the mesmerizing sky palace on top of the rock.
Price Includes:
Door to Door Pick up and Drop Off.  Passengers must provide the Hotel information in Colombo. Maximum 4 Passengers.
Don't Forget:
Cameras, Swimwear, Hats, Sun Cream, water and snacks.
Will make lunch stops based on customer preference. 
Our Tips:
Bring your drone if you may like. Dress comfortably as it is high in humidity.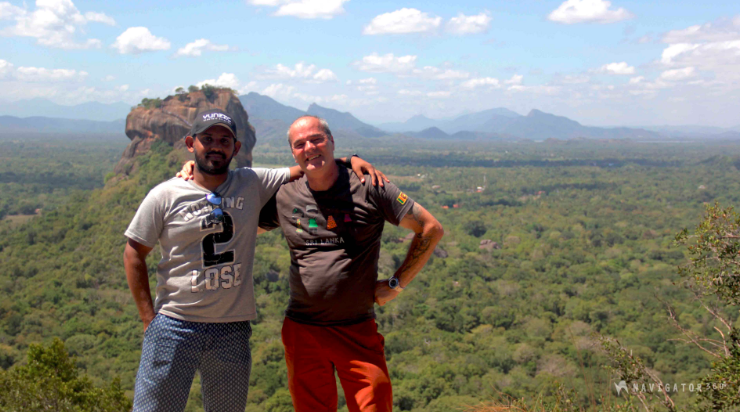 Average Tour Time: 6 to 8 Hours